Please note: this information is provided for informational purposes only and cannot be relied upon as legal or tax advice. All real estate transactions are unique and you should consult with your tax advisor, financial advisor and legal counsel before entering into any real estate transaction. Additionally, we recommend using a LOCAL LENDER, who is already familiar with the particularities of securing a mortgage for a property on leased land or fee simple land in the Coachella Valley.
Direct information from the Bureau of Indian Affairs is available here.
What is Lease Land?
In the United States, when you purchase property, it's most commonly "fee simple" (aka, "fee land"), which means that you own the land and the property. In a few parts of the US, including the Coachella Valley, certain properties are purchased with a different type of ownership rights, called "leased land." Leased land is common in many parts of the world and not as confusing as it may seem initially. Indian lease land has been part of US property history since the 1800s. Corporate lease land has a similar impact but is less common in the Coachella Valley therefore, our discussion focuses on Indian lease land.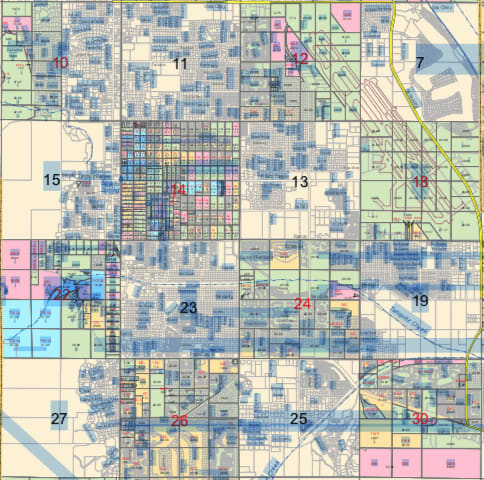 Does Indian Lease Land Impact Property Value?
Typically, Indian lease land properties have increased/decreased in value at the same rate as fee simple land properties. Below is a brief history of how it came to be and what it means to contemporary homeowners and buyers.
Coachella Valley Indian Lease Land History
In 1876, when the Pacific Railroad began laying tracks between Los Angeles, CA and Yuma, AZ, the U.S. government took possession of all the land and gave the Pacific Railroad title to "checkerboard parcels" of every other square mile of land (running east/west) for 10 miles (running north/south) on either side of the railroad right-of-way. The government then deeded ownership of the non-Railroad land to the Agua Caliente Band of Indians, which limited their ownership rights to 52,000 acres of the Coachella Valley, 6,700 acres of which are in Palm Springs. Use these links to learn more about the history of Indian lease land, and to see a map of Palm Springs Indian lease land.
Today's Landscape
Some of the best neighborhoods in Palm Springs are on Agua Caliente land. Over 23,000 residential properties in the Coachella Valley are on Indian lease land, which gives the homeowner rights to the land for the duration of the lease. Each lease is different but all are long-term and commonly negotiated and renewed years in advance of their expiration dates. Because each lease is unique (incl start date), each must be reviewed for the specific terms affecting a particular property. The most important factors to consider with a lease land transaction are the lease owner and administrator, lease status and remaining time on the lease.
The vast majority of Indian land leases are administered by the Bureau of Indian Affairs or an appointed property management company. This means that, with a few exceptions, homeowners and buyers do not deal directly with the Indian owners. The land administrator bills and collects the land rent on an annual or monthly basis, according to the terms of the lease.
To learn more about Indian lease land, please contact the Bureau of Indian Affairs, Palm Springs Branch on 760.416.3289, or at their website: BIA Palm Springs.
Why buy Lease Land vs Fee Simple Land?
Financial Benefits The main advantage of Indian lease land is that you can buy a home for up to 15%-30% less than on fee simple land. In essence, you're only buying the home (structure) and not the land. Practically speaking, once a structure is built, the land beneath it can be of no other use to the landowner. Therefore, by owning a property on leased land, the homeowner benefits from using the land without the capital expense of the land itself. Instead, the homeowner pays rent for the land (as determined by the lease agreement and paid through the lease administrator). This means, Indian lease land is a great way to afford a more luxurious home with a smaller initial capital investment.
Taxation The secondary advantage is at the taxation level: homeowners are typically only taxed on the market value of the structure, not the underlying land. Contact Riverside County tax assessor for tax information on a specific property.
Appreciation and Resale Value Historical data indicates that homes on leased land appreciate at exactly the same rate as homes on fee simple land. The data shows that other factors, including the condition of the property, have far more influence on a property's appreciation and resale value than the type of ownership.
Transferability You can sell or bequeath your home on leased land just as easily as on fee simple land.
Mortgages on Lease Land
It is possible to get a mortgage for a home sitting on leased land and interest rates tend to be the same for lease land and fee simple land. The mortgage process, however, is usually more complicated for lease land because some leases have down payment requirements and other specific conditions. WE RECOMMEND USING A LOCAL LENDER THAT IS FAMILIAR WITH THE COMPLEXITIES OF LEASE LAND.
Contact Cathy Muldoon for more information on lenders that process lease loan applications.
IMPORTANT DISCLOSURE
The information above is provided for general information purposes only and should not be relied upon as legal or tax advice. All land leases are unique and it's important to carefully review all contracts, leases and information about the specific property, structure and lease prior to entering into a transaction. Please consult with your financial advisor, tax advisor and legal counsel when considering and/or undertaking any purchase of lease land or fee land.